The High Impact Tour ends in grand style at The Tabernacle, Notting Hill
15 February 2013
Curator Rosie Goldsmith's plan to bring six of the best Dutch-language authors to the UK for a tour of six cities over six nights always looked ambitious. But with most of the country blanketed in snow, the High Impact tour's success seemed even more miraculous as it reached London for its sell-out grand finale.

Taking place at the Tabernacle in Notting Hill, the final leg of the tour lived up to its 'High Impact' billing. The audience were treated to readings from an incredible group of Dutch and Belgian writers, from the poet laureate Ramsey Nasr to the prize-winning travel writer Lieve Joris. The London event also included guest appearances from three of the UK's finest authors: Deborah Moggach, David Mitchell and Tracy Chevalier, who ended the evening with a reading from
The Girl with the Pearl Earing
. All three writers have been inspired by Dutch culture and written on Dutch themes, and all three had high praise for the contemporary Low Countries literature showcased at The Tabernacle.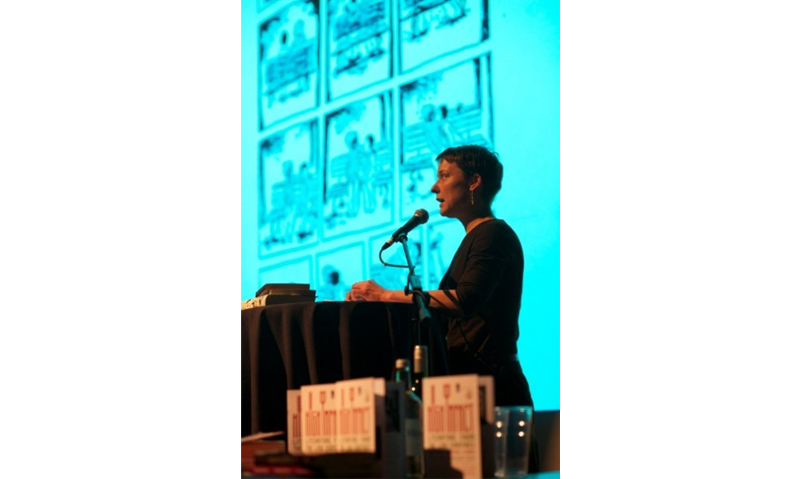 Judith Vanistendael, the only graphic novelist on the bill, took to the stage to discuss her work in the light of the evening's theme, 'the Dutch Golden Age'. She recalled being moved to tears by the paintings of Golden Age masters Vermeer and Rembrandt. On an evening otherwise dominated by the written and spoken word, Judith's talk served as an important reminder of the power of the image. Frames from
When David Lost His Voice
and
Dance by the Light of the Moon
were projected behind her as she spoke eloquently of her inspirations and intentions.
The audience and guests were entertained throughout by musicians Eric Vloeimans and Tuur Floorizone, who made the combination of accordion and trumpet sound as improbably perfect (as David Michell put it) as Wensleydale and Christmas cake. Like the rest of the evening, it was an excellent reminder that we should open our eyes – and ears – to international culture. Judging by the talent on show at The Tabernacle, the Low Countries would be a good place to start.
The High Impact writers' personal blogs are being published every day this week on the tour's website.
Tags: